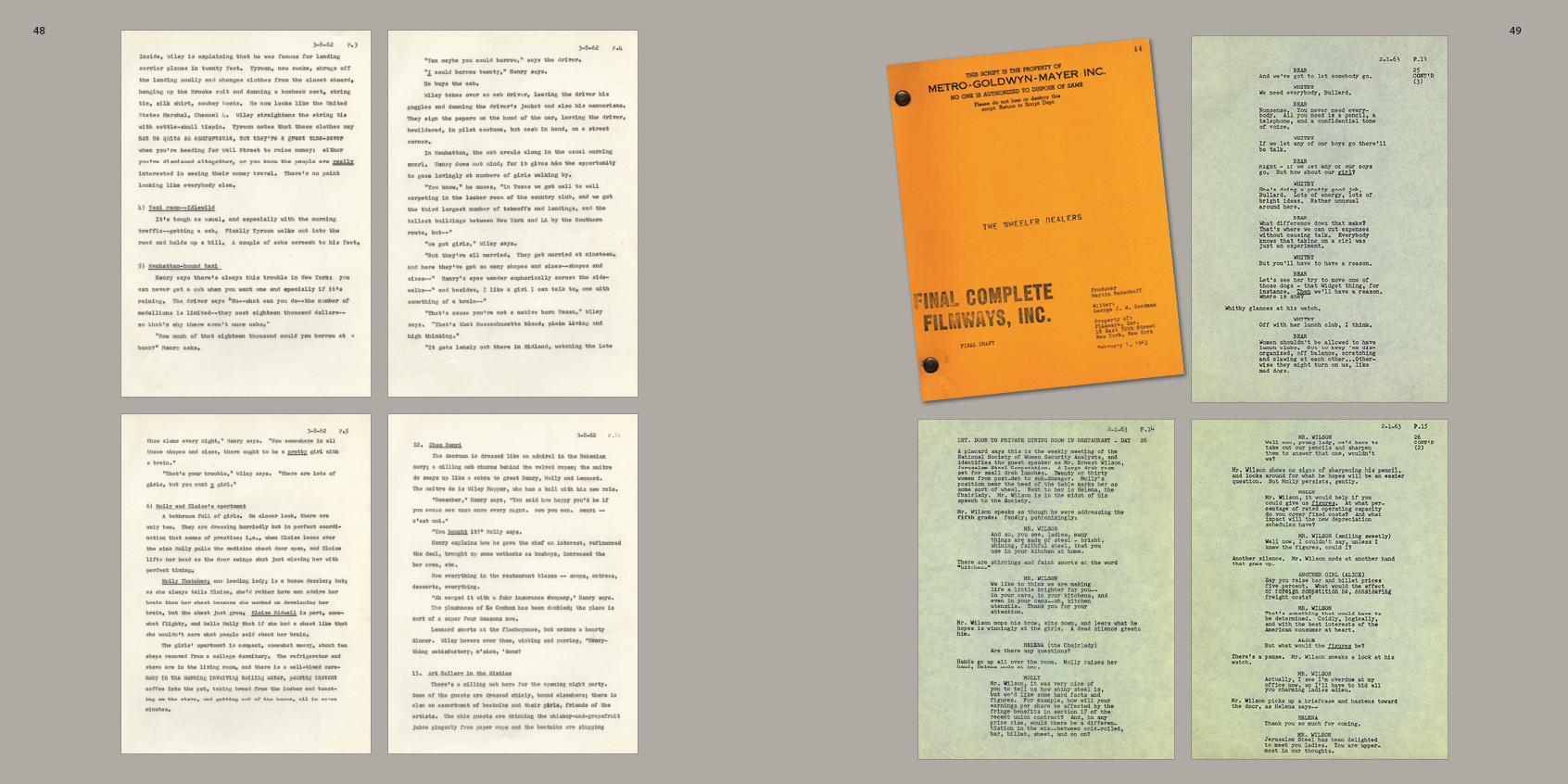 The Wheeler Dealers | Published 1959. Screenplay optioned in 1962. Adapted for the stage in 1960s.
The Wheeler Dealers was made into a major movie starring James Garner and Lee Remick.
The story is about an Ivy League Texan, loosely based on the Bush family, who comes to Wall Street to raise money. He meets a young woman who aims to be a securities analyst against the advice of her friends who want her to follow traditional female careers of the time. Her boss in the movie is played by Jim Backus, who was best known for playing Thurston Howell III on Gilligan's Island.
A group of female securities analysts play The Wheeler Dealers every year at their annual meeting. For a couple of years, Jerry invited George H.W. Bush to come and watch the movie with him.
The Wheeler Dealers Press & Scripts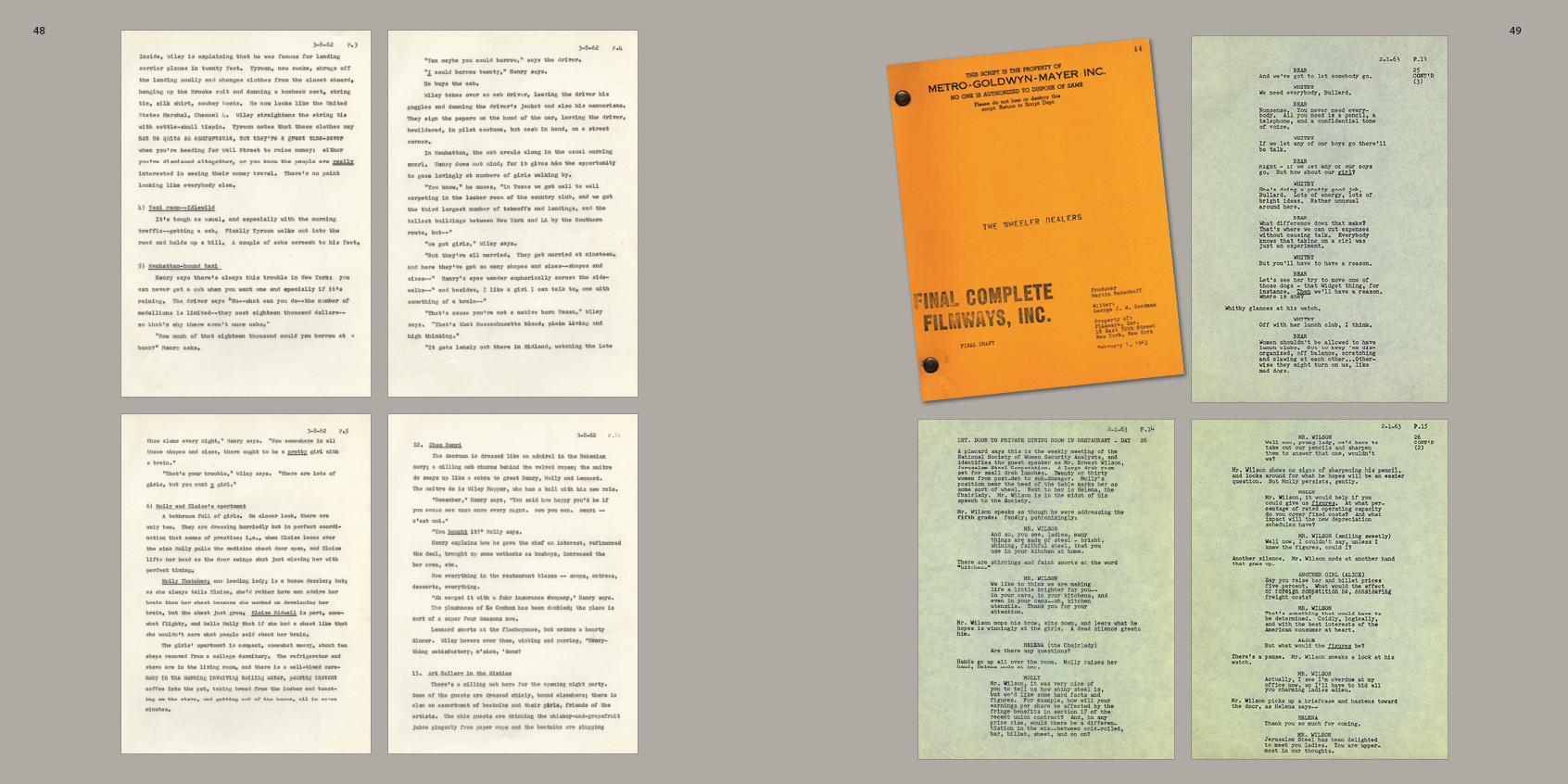 The Wheeler Dealers Press & Scripts
The Wheeler Dealers Press & Letter from George H.W. Bush
The Wheeler Dealers Press
The Founding of New York Magazine & Rise of Adam Smith
Jerry founded New York Magazine along with other writers like Tom Wolfe and Milton Glaser and Clay Felker. He used to go to Wall Street meetings as a broker, Jerry Goodman, and he wanted to write under a pen name so he could continue to write on his findings, pick up gossip, and generally write from the inside.
He originally chose the name Procrustes, after the Greek mythological character. For his first breakout piece, "The Day They Red-Dogged Motorola", the editorial team couldn't reach him. And they didn't like the name Procrustes. So they changed it to "Adam Smith" after the 18th century famed Scottish economist. When Jerry returned from the weekend to look at the copy he found the new name and was furious. And it was also too late. The copy had already been run. And after that the name stuck.
This series of columns provided the primary material for Money Game.
The Institutional Investor
Jerry was proud of being a founding partner of "Institutional Investor." The magazine told stories and created profiles of firms and individuals in the money management business. He was quite proud of an early cover that featured a cartoon drawing of three top money managers dressed up as various super heroes. Bringing a sense of fun to reporting about a topic that many people find dry was a mission that fit well with the Adam Smith writing.
Television
Jerry started his television career by doing short pieces as an editorial correspondant for "The Nightly Business Report" every other week. "Adam Smith's Money World" first aired in 1984. He loved working with the team of writers, producers, and graphic artists to put together the show. He was proud of his graphics team who helped to simplify complex financial issues. The graphics team eventually won three Emmy awards.
Jerry won an Emmy award in 1995 in the interview category for his show called, "Old Masters of Wall Street," about three investors who still went to work every day in their 90s.
Adam Smith's Money World | PBS Television Series, 1984-1997
In Moscow shooting Gorbachev for Adam Smith's Moneyworld, 1993
Personal letter from Warren Buffett to Jerry Goodman